Raw Bohemia Moldavite Sterling Silver Pendant handmade by Wulflund in the homeland of moldavites - the Czech Rep. MOLDAVITE is a green meteorite glass that was formed during a meteorite impact 14.5 mil. years ago in the area of Nördlinger (Bavaria, Germany) where the crater of Ries was formed (24 km in diameter) as a result. It is supposed that the meteorite was 1 km in diameter. The impact caused melting of sedimentary rocks, which were hurled into the air where they cooled and fell down in an area 250 km away, mainly in South Bohemia, the Czech Republic. The glass is named after the river of Vltava (the Moldau) which flows through this region.
Material sterling silver, moldavite
Weight of stone approx. 7 g
Weight of silver approx. 2.5 g
Height 45 mm
The photographs are for illustration purpose only. Our products are hand made and as such they may differ in their appearance and dimensions. Please contact us if you would like to know the exact look and size of your chosen product.
27.49 €
Catalogue number: DEP02
In stock
27.49 €
Catalogue number: DEP01
In stock
Related products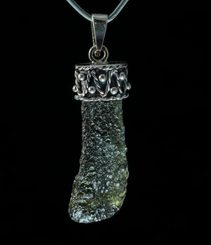 288.64 €
Catalogue number: MLD113
3-4 weeks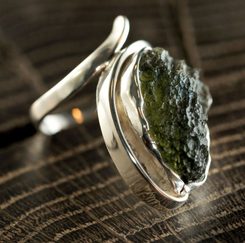 219.37 €
Catalogue number: MLD121
3-4 weeks