Viking Onyx Ball Pendant, Gotland, silver. Casted granulation.
Material: onyx and sterling silver
The chain is not included
Ag 925 (7g), 2.5 x 3.5 cm
No piece of jewellery is ordinary and the most valuable of them should fulfill at least the following criteria: high quality of craftsmanship, careful choice of materials and an original and interesting design. We dare say this jewel meets them all and has even more. It contains history and a soul that has been infused into it around the year 1000 CE on the Baltic island of Gotland (Sweden), where the pendant was crafted as a part of a large necklace.
Archaeologists believe the silver used for the necklace was imported from the Slavic countries and the crystals from Persia (Basra) or the Alpine areas, Persia being a more likely place of origin. Crystal is a symbol of nobility, purity and magical beauty. Time passes but in this case the beauty remains. This piece will be appreciated by women whether they are deeply interested in history or not, moreover, it will never succumb to fashion trends.
Related products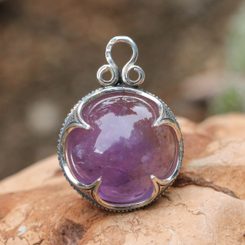 92.33 €
Catalogue number: SBR518
In stock