Double sided amulet - Taranis wheel. Replica of a find from Gallia Belgica (turn of the era), the originals can be seen in the Musée d'Archéologie Nationale.
TARANIS is the Lord of Heaven. It is able to cast lightning using spirals that adorn its shoulders. He is the Lord of the heavenly fire, and his anger was pacified by the living sacrifice of sacrifice. It protects mountains and high places, for they are sacred areas.
The pendant comes from our production and Drakkaria owns the wax model and casting mould.
Material: silver Ag 925
Size: 3 cm
Weight: 9g
Related products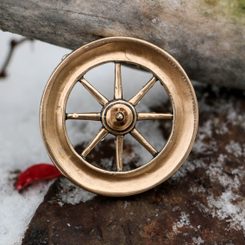 17.64 €
Catalogue number: BHJ639
In stock