Tree of Life - black T-shirt by Naav, the Czech Republic.
Birth, life, death and rebirth are all part of eternal cycle. All is connected the same way a tree is connected to its environment. Our ancestors were well aware of this fact and they often featured a Tree of Life in their artwork.
In our beautiful and detailed design the young branches, buds, green grass and a clover symbolize birth and youth. The acorn depicts adulthood while the autumn and winter of one's life is portrayed as ice and a skull. 
Vikings and Celts were not afraid of death and they even displayed skulls in their homes.
Detailed design
Quality print
Gildan T-shirt (US company)
Manufactured by Naav fashion brand
Printed in the Czech Republic
Related products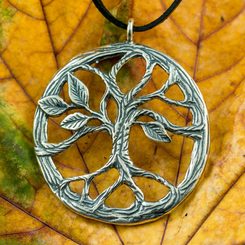 71.81 €
Catalogue number: SBR406
In stock